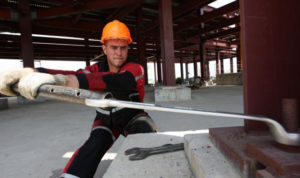 Industrial and commercial construction is almost impossible to imagine without the use of metal structures. Strength, safety and durability of structures determines not only the quality of production of such products, but also the correctness of installation.
The employees of the Steel Center company carry out the installation of metal structures in strict accordance with norms and standards. We provide professional installation services in Kyiv and Kyiv region.
A set of works on the installation of metal structures
Ten years of experience with metal structures of various types allows us to perform installation work of any complexity. Certified employees of our company strictly comply with applicable building codes and technologies.
We comprehensively approach the installation of metal structures, which allows you to guarantee the quality of all work performed. The main stages of work in this direction:
technological and organizational preparation (procurement, warehousing);
installation work;
verification of the quality of assembly or welding of the structure;
preparation and delivery of executive documentation to the customer (with executive geodetic survey).
The correct organization of the work process, a team of profile specialists and the necessary equipment base allow you to mount structures of any kind:
metal structures;
frameworks of warehouses, hangars, industrial buildings;
roofing and intermediate floors;
service stations and car dealerships;
supermarkets, shopping centers;
sport complexes;
silos, tanks, containers;
columns, farms, beams, girders, communications.
The Steel Center company offers its customers a unique technology for the construction of rapidly erected from a metal frame. Specialists develop drawings of the MS, MDS, RS stage We also offer turnkey metalwork work: from complete design to delivery and installation.
Why to choose Steel Center?
Steel Center occupies a leading position among companies offering the manufacture and installation of metal structures in Kyiv, thanks to its great practical experience and the technological process of work. We constantly introduce the latest innovations and improvements into production, taking into account the changing demands of the market.
The main benefits that we offer our customers are:
highly qualified team with many years of experience;
application of modern equipment, machinery and new technologies;
implementation of projects of any complexity at a high level;
guarantee for all types of work;
shortest terms and their strict observance;
facility maintenance;
optimum ratio of material costs and quality of work.
We have been providing services in this direction for 10 years and we know all the details. With our help, the installation of metal structures will be carried out professionally, quickly and at a favorable price.