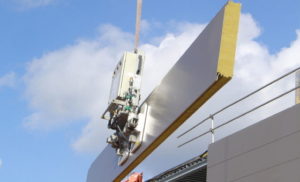 The sandwich panels allow to significantly accelerate the construction of the building. This is a universal building material, which recently appeared on the domestic market, but is already actively used in industrial and commercial construction. It is important to trust only professionals complex construction work, which includes the installation of metal structures, in order to avoid negative consequences.
If maximum comfort inside the building, its safety and durability, is important for you then entrust the installation of roof and wall sandwich panels to the specialists of Steel Center. We work in Kyiv and Kyiv region. We provide a guarantee for all work performed.
Advantages of sandwich panels
The key reasons why many customers choose this building material is its low price. In addition to the favorable cost of the structures themselves, you additionally save on concrete work for pouring the foundation, transporting materials, and attracting heavy equipment.
Other important advantages of installing sandwich panels over other technologies:
the ability to carry out work at any time of the year;
installation speed;
convenient and economical transportation;
long life of the structure.
The resistance to environmental influences, heat and noise insulation properties, fire resistance allow using structures for the construction of diverse structures:
shopping centers;
sport complexes;
frameworks of warehouses, hangars, industrial buildings;
service stations and car dealerships;
silos, tanks, containers;
beams, girders, columns, farms, connections.
Using sandwich panels, we implement projects of any complexity: from small buildings to large-scale structures for special purposes. We help to build complexes for industrial or commercial use, storage facilities.
Installation stages and technologies
Only the correct installation of the sandwich panel structure makes it strong, durable and cheap in operation. The violation of technology will lead to the fact that the building will be exposed to the environment, its strength, safety and energy efficiency will decrease.
Therefore, when installing sandwich panels, our craftsmen comply with technology and safety at every stage. We always adhere to the sequence of stages of the provision of services:
preparatory stage (procurement, storage);
installation of structures from sandwich panels;
quality control check;
preparation of executive documentation.
With us you can order the full design, installation and supply of metal structures for various purposes. The company's specialists develop drawings of the stage of AR, MS and RS, create projects of hypermarkets, sports complexes, car dealerships, shops, service stations and other types of buildings. In our work we use modern equipment, new equipment and specialized tools, which allows us to guarantee the quality of all types of services.