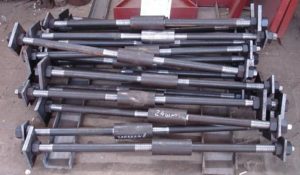 Anchor type fasteners, as well as profile equipment, are used for fastening building structures. The Steel Center company manufactures anchor foundation bolts and other embedded details in Kyiv. Over the years, we specialize in the production of all kinds of metal structures and their components, so we offer customers time-tested solutions.
We manufacture high quality anchor bolts and embedded details using modern specialized equipment. All manufactured products comply with current state quality standards, other regulatory documents and technical requirements of customers.
Appointment and scope of anchor bolts
The main purpose of anchor fasteners is laying in the foundation of the building at the concreting stage. They can be used for concrete, natural stone, solid brick and other building materials. They are intended for further fastening of metal structures mounted on a reinforced concrete base.
The scope of parts is quite extensive: from standard repairs to the organization of a large production process. When the task is to fix heavy objects, anchor-type fasteners will always cope.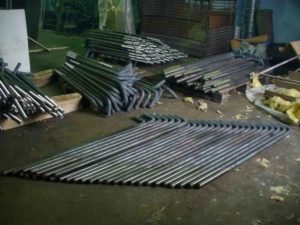 Anchors are especially in demand in the installation of rapidly erected buildings:
warehouses
transport, logistics terminals;
commercial, industrial, administrative buildings;
sport complexes;
agricultural and other buildings.
They are also indispensable for the equipment of technological lines in factories of any scale.
Professional production
The Steel Center company manufactures a wide range of anchor fasteners in Kyiv in the factory conditions. The shape, size and configuration of products is determined individually in each order, and depends on the purpose of the use of fixtures. We complete the bolts with a hook, ring, nuts.
The quality and reliability of the fasteners are responsible for the safety of the entire structure. Our experts study problems in detail when using this method of securing various products, so we carefully control every stage of production, use durable materials and strictly adhere to the technology. Our production process consists of the following steps:
Careful selection of a reliable steel supplier.
The manufacture of anchors.
Strict control using modern technology.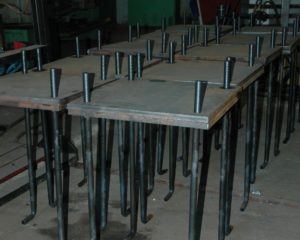 We use imported specialized equipment and durable materials in production, which allows us to guarantee high quality of finished products and a long service life. The component to be fixed is constantly exposed to friction, therefore, our company most often uses high-strength steel grade 09G2S and StZps/SP as the main material for production.  Other brands may be used at lower mounting loads.
All materials used in the production comply with building codes and have excellent weldability characteristics. Component parts are in the form of a steel plate to which rods or anchors are welded.
Wide range at affordable prices.
The Steel Center company offers to make custom anchor bolts of any configuration, shape and size. It is possible to produce standard hardware and non-standard fasteners according to your drawings. Depending on the requirements, it is possible to complete with nuts and washers.
In the manufactured products, the rods may have a different arrangement:
parallel to the flat part;
with a slope;
perpendicularly;
a combination of several directions.
Embedded structures are open and closed. Different steel can be used for the manufacture of the plate: corrugated, angled, shaped, strip.  We use hot rolled sheet or strip products as a workpiece.
Examples of designation of standard bolts and their approximate prices:
Bolt 1.1 M20 * 800 St3ps2 GOST 24379.1-80, cost from 60 UAH / kg.
Bolt 5 M30 * 800 09G2S GOST 24379.1-80, cost from 75 UAH / kg.
Hairpin 7 M30 * 900 St3ps2 GOST 24379.1-80, price from 55 UAH / kg
The price depends on configuration and complexity of work. You can find out approximate prices by calling 067 777 06 07.
Benefits of cooperation with Steel Center
Many years of experience in the production of metal products allows us to implement projects of any scale. High qualification of the specialists provides the ability to fulfill any customer wishes regarding the shapes, size and configurations of anchor bolts and mortgages.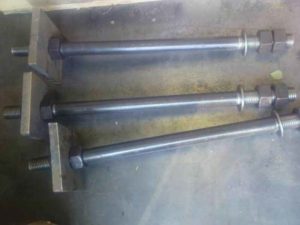 Reasons to order the manufacture of anchors in the Steel Center company:
Embedded parts of any type are produced in a short time. We control all stages of production, including compliance with schedules.
All products are provided with a quality guarantee. Our company is a direct manufacturer in Kyiv, so we have the ability to control every stage of production: from design to packaging and shipping to the customer.
Reliable suppliers and quality raw materials. The strength of anchors is largely dependent on the material used. We select the grade of steel based on the planned loads on the fasteners and the conditions of its operation.
Wide range and the ability to order products of any parameters.
Affordable cost. We set a minimum margin in contrast to intermediaries.
To order bolts for laying in the foundation or calculate the cost, contact the managers of the Steel Center company. You can make a request by e-mail or by phone (067) -777-06-07. A delivery service of the finished order to the specified address is available.