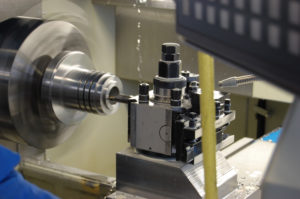 Mechanical processing of metal products is an integral part of the production process of enterprises of almost all industries. Professionally performed turning and milling work allows you to create parts of any complexity, to perfect every element of the drawing.
In order for the parts to meet the standards, all work must be carried out on specialized equipment. The Steel Center company in Kyiv has a production base and a qualified staff for the professional performance of turning works of any complexity and orientation.
Turning works
The essence of turning works on metal is reduced to cutting a special layer (allowance) from the surfaces of the workpiece with a special cutting tool. Such actions are most often used to change the configuration, the size of the workpieces, and the manufacture of small metal parts.
Steel Center also manufactures turning products. Each detail is of high quality, short manufacturing period. Our CNC machine operators produce the following products:
all kinds of hardware (bolts, nuts, screws and others);
cones, bushings of various shapes, sizes, configurations;
nipples made of steel, technical plastic;
embedded parts for monolithic and frame construction;
steel, bronze pulleys, nozzles;
rolls of various steel grades;
couplings for special equipment.
We can custom-make any part according to standard and non-standard drawings. We use only professional equipment. Highly skilled craftsmen specialize in processing external, end, and internal surfaces, cutting external and internal threads, grooving, rolling corrugations, countersinking, trimming ends, and drilling.
Milling work
For the processing of turning products and parts, the masters of Steel Center apply various methods, including milling. The milling machines, specially designed for this, are used For milling metal by the order. The main difference from turning is that when milling on CNC machines, the workpiece does not rotate, but is fixed motionless.
Our specialists perform all types of milling - vertical, horizontal, angular. The method of transverse turning with cutting rotation allows you to perform work of any complexity in the shortest possible time without loss of quality.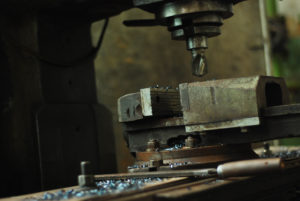 Milling work, which can be ordered from the specialists of "Steel Center":
manufacturing of parts of any complexity;
production of blanks;
groove production;
bezel making;
production of ledges;
manufacture of shaped surfaces.
Depending on customer requirements, we choose different methods for processing parts. As a result, the client receives a fine, accurate or rough processing of all products. A surface treatment service is also available.
Our possibilities
The masters of the Steel Center company use only specialized equipment, universal type machines, modern profile tools, and the latest turning tools in their work. All specialists have a narrow specialization, wide experience and high qualification. All this allows us to guarantee the performance of even the most complex turning and milling operations without the slightest error and shortage.
Making an order for turning and milling work in Kyiv with us, you can be sure of a professional approach, high-quality result and affordable price.